These days, under the leadership of Director Zhao who works for the association of industry and commerce in Jinan, Chairman Xu from Lanzhou's association of industry and commerce and ten enterprisers visit to our Sinolion Machinery. We general manager -- Mr. Lionel warmly received the guests, it held a pleasant symposium.
At the symposium, Mr. Lionel has showed the company's PPT, introduced the company's qualification level, business philosophy, personnel, project results, access to honor and development vision from the elementary to the profound, and exchanged the experience and views in terms of the program of developing, which is using the advantage of specialized technology and the value vision, then visited the production work area.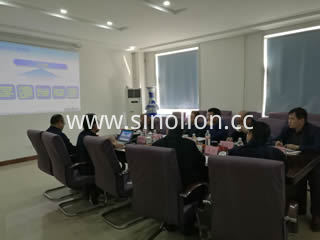 Mr. Lionel said that Sinolion Machinery could achieve today's results, inseparable from the government departments long-term concern, help and support, but also all staff's results, which adhere to pioneering and innovative, the pursuit of excellence, solid work.


Chairman Xu highly confirmed Sinolion Machinery company's contribution to the development and construction of high-tech zones in Jinan City, and said that private enterprises as the backbone of social development, whether healthy and orderly development is the most concern of the Association of Industry and Commerce. As a key enterprise of high-tech zone intelligent equipment city, we should actively adapt to the new economic normal, do a good job in management, improve market competitiveness, but also do a good job of corporate culture, enrich the spiritual and cultural life of employees, and earnestly concerned about the physical and mental health of employees contribute to the society.


Finally, President Xu and others were discussed with Mr. Lionel, which in terms of how to further build a platform for the Association of Industry and Commerce, do a good job of government links with private enterprises and links.

Shandong Sinolion Machinery Corp., Ltd.
Business Type:Manufacturer
Product Range:Packaging Line , Multi-Function Packaging Machines , Wrapping Machines
Products/Service:Packing Line , Wrappers Packing , Packaging Solution , Stretch film Wrapping machine , Palletizing machine , Conveyor
Certificate:CE , ISO14001 , ISO9001 , OHSAS18001
Company Address:No. 2010 Kehang Road, High-tech Zone, Jinan, Shandong, China
Previous:
Performance introduction of different styles of wrapping machine
Next:
Comparison and Analysis of Manual Wrapping and Stretch Wrapping Machine